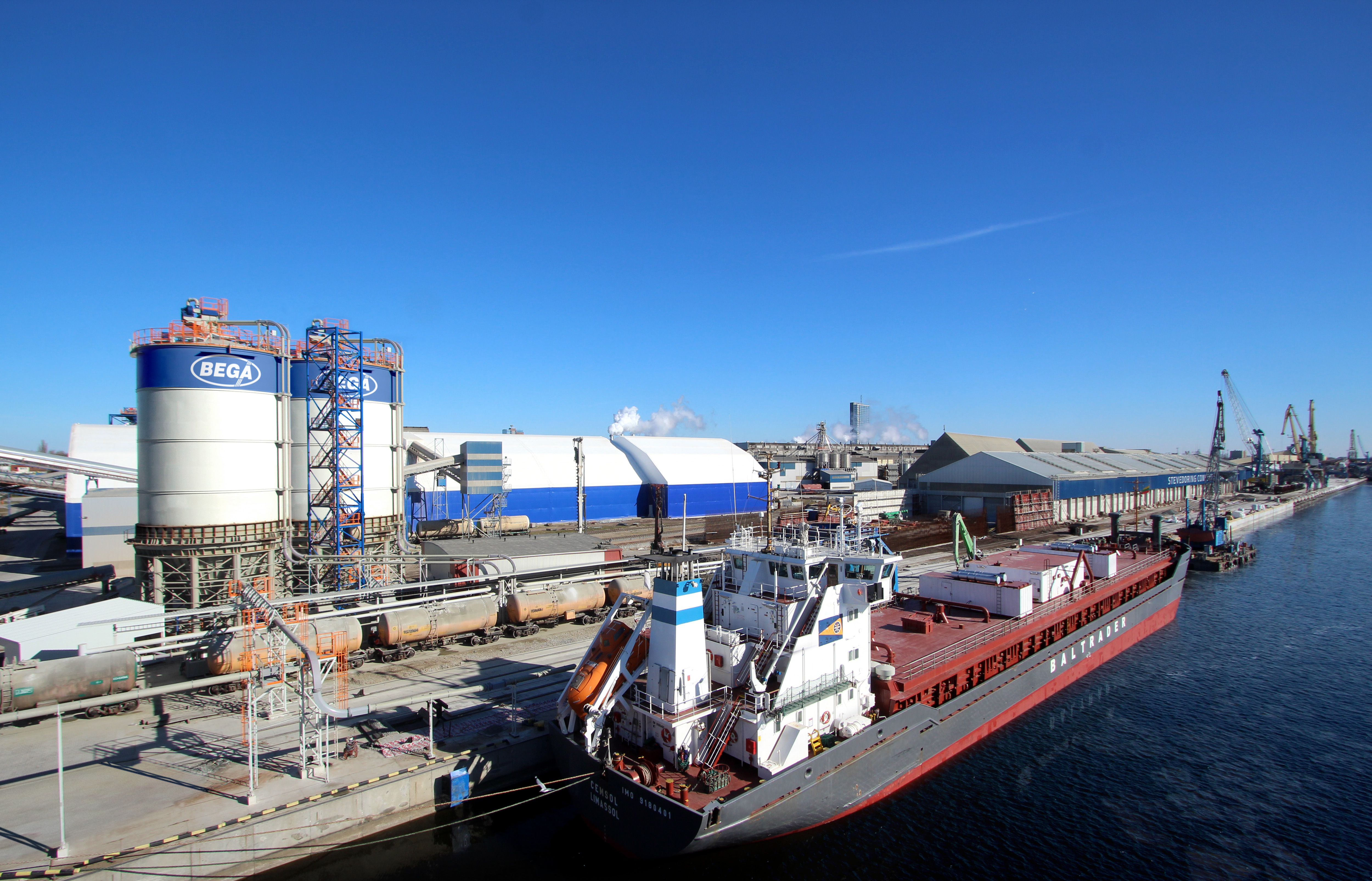 BEGA cement terminal awarded by the Lithuanian Government and the Confederation of Industrialists
The award of annual competition "Lithuanian Product of the Year-2018", organized by the Lithuanian Confederation of Industrialists and presented by the Government of Lithuania went to Klaipeda port.  
Klaipeda Stevedoring Company BEGA was awarded for the first and for the time being the only one specialized Cement Terminal at the port of Klaipeda.
CEO of BEGA Laimonas Rimkus was presented with the Golden medal of "Lithuanian Product of the Year-2018" by the Minister of Economy Virginijus Sinkevičius and the President of Lithuanian Confederation of Industrialists Robert Dargis.
Photo by Tomas Baura (lrytas.lt) 
The BEGA Cement terminal was built to effectively serve the export streams of Akmenes cementas, a company producing double cement in Lithuania.
Two cement tanks of 3600 tons each was built for the accumulation of bulk cargo, as well as pipelines, modern load handling technologies and software. In total, BEGA invested about 5 mln Eur.
According to Laimonas Rimkus, General Manager of Bega, the implementation of the project was based on the technology of the global leader in closed pneumatic transport systems, Claudius Peters GmbH (Germany). For further work, Lithuanian contractors have been used, many innovative solutions have been generated and implemented by the specialists of Bega, who have a lot of experience in this field.
Cargo handling is carried out in a closed manner, without any cargo contact with the environment. Due to technological equipment and software, the system automatically monitors and analyzes the loading process and optimally distributes air and cement streams.
By implementing the logistics solutions of the new cement terminal, Bega further expanded the functions of the electric robotic locomotive already operating at the railway wagons' landing stations. . In the cement terminal, the robot is programmed not only to move wagons, but to sort them out and sort them into different branches of a railway.
According to the general director, it is very important that from the environmental point of view these robots operate in the environment without discarding any pollutants, i.e. The noise emission parameters are significantly lower with zero emissions, in addition to the traditional locomotives.
Until now, Lithuanian cement exported to the port was loaded in 3-4 thousand tons. tons of vessels. As the export flow increased, there was a need for faster loading and larger vessels, especially as the built-in tanks at one and the same time would allow up to 7 thousand tons of storage. tons of cement batches.
New cement terminal equipment will allow double load handling capacity. With this in mind, the German shipping company Baltrader, specializing in the cement shipping fleet, specially adapted several of its vessels to the cargo at this terminal in order to accommodate their cargo handling capacity with terminal handling capacity.
Back to all news